Correr es un modo de estar en el mundo.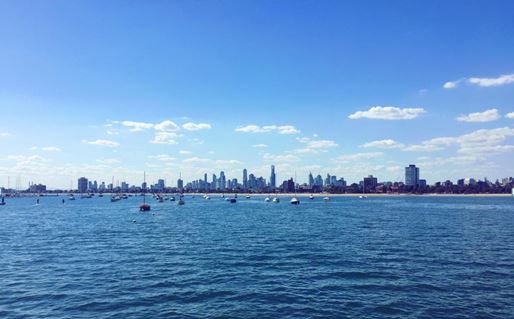 *Vista al CBD desde la playa de St. Kilda. Melbourne, Australia
Introducció: Elisa Herrera, mexicana que està fent un doctorat a la UOC sobre les curses i la socialització que comporta i que ja ens va escriure articles fa uns mesos, torna amb un reportatge molt interessant sobre els mesos que ha estat vivint i corrent per Australia.  L'article és en castellà per respectar la seva llengua original.
Correr es un modo de estar en el mundo.
A principios del año me mudé por cuatro meses al sur de Australia por razones de mi proyecto doctoral. La fase del trabajo etnográfico sobre el 'running' en Barcelona había terminado y ahora me uniría a un grupo de investigación en el Royal Melbourne Institute of Technology (RMIT) para continuar desarrollando mi argumento de tesis patrocinado por la UOC en Catalunya. Era mi primera vez en las Antípodas y las 'bambas' fueron empacadas como objeto de primera necesidad. Para mi fortuna, la casa donde vivía estaba a unas cuantas cuadras de la playa de St. Kilda, un espacio conocido, entre otras cosas, por acoger a grupos de pingüinos azules que viven en el muelle y que pueden ser vistos muy de cerca al caer el sol. La mañana siguiente de mi aterrizaje en Melbourne me inauguré en lo que sería mi nueva vida australiana, con 10km de trote ligero y presenciando el amanecer a un lado del mar, disfrutando los colores, los olores, la gente, el escenario nuevo y prometedor.
St. Kilda está comunicado con el CBD (Central Business District) de la ciudad a través de un paseo marítimo transitable tanto para bicicletas como para caminadores y corredores. Hacia el lado opuesto del centro de la ciudad, por el mismo camino, es posible también llegar a una de las playas más conocidas de la zona llamada Brighton Beach, famosa por sus coloridas 'box houses' y por ser una de las zonas más exclusivas del Estado de Victoria. El paseo va siempre a lado de la costa y en muchos de sus tramos está rodeado de jardinería perfectamente cuidada, pistas de patinaje, juegos de niños, bares o algún 'chiringuito', y en todo momento se puede observar una vista espectacular de los rascacielos del centro de la ciudad, que con imaginación y al ritmo de la carrera, podríamos incluso fantasear con formas parecidas al Hotel W. El mar de la bahía Port Philip es calmo y cada día espera la puesta de sol con tonalidades de rojos, anaranjados, rosados, violetas y azules espectaculares, brillantes, penetrantes. Este fue mi lugar más recurrente para salir a correr y me recordaba mucho Barcelona por su cercanía con la zona urbana, por la presencia de gente bañándose, tomando el sol, ejercitándose por el puerto o disfrutando de un paseo y de las vistas, siempre en movimiento a cualquier hora del día, pero sin agobios ni tumultos, más bien un ambiente bastante local.
Inicié mi estancia justo al final del verano y principios del otoño, así que la temperatura para correr a cualquier hora del día era muy agradable. Aunque permanecí sólo algunos meses en Melbourne, tuve que mudarme de casa un par de veces más, haciendo de las zonas aledañas mi pista de 'running', por comodidad, por apropiación del barrio, por descubrir nuevos caminos.
El 'barrio' de Brunswick, al norte de la ciudad fue el segundo sitio donde viví, y muy cerca de casa, había un parque natural hermoso con un camino de poco más de 21 Kms de longitud que de igual manera se conectaba con el CBD a través de una pista horizontal de bici y un carril para transeúntes que muchos 'runners' utilizaban para ejercitarse por las mañanas o incluso para trasladarse (corriendo, caminando o en bici) a sus trabajos en el área céntrica de la ciudad. Era un parque vertical con un camino muy bien delimitado y señalizado, con una frondosa naturaleza que acompañaba el trote a un lado del refrescante Lago Cobourg que desemboca en el conocido Yarra River. Además, en uno de los tramos de la ruta se podían visitar lugares como el CERES (Centre for Education and Research in Environmental Strategies) y la antigua prisión 'HM Prision Pentridge' que albergó a los primeros prisioneros llegados a Australia en 1851 y que fue cerrada oficialmente en 1997.
En las afueras de la ciudad, para un sábado o domingo de 'running', es común aprovechar el 'Kokoda Memorial Walk (1000 Steps)' en el Dandenong Ranges National Park que permite seguir un camino cuesta arriba de 1000 escalones entre helechos y árboles de goma de maná y madera negra. En la cima de la colina hay un espacio para hacer picnic y el parque se comparte entre visitantes y corredores que aprovechan este fresco y retador camino de escalones para sudar, hacer un poco de entreno o pasar el día con amigos y familia.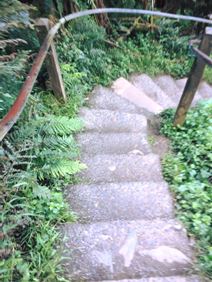 *Kokoda Memorial Walk (1000 Steps). Dandenong's Ranges National Park. Victoria, Australia
En Melbourne como en Barcelona, la gente disfruta de los espacios al aire libre para salir a correr. Y ni hablar de las 'populares' en Australia porque igual que en Catalunya y el resto del Estado Español, abundan las carreras en sus diferentes versiones y matices: 'fun run', 'charity run', 'color run', maratones, medias maratones, 10k, carreras en las carreteras costeras del sur de Australia que pasan por escenarios naturales espectaculares como la 'Great Ocean Road Running Festival', entre otras.
En mi caso, salir a correr estos cuatro meses tuvo un matiz exploratorio y de apropiación de los lugares nuevos que estaba conociendo. Correr me permitió, además de ejercitarme y mantenerme activa en la vida cotidiana, entrar en una dinámica de habitante local, conocer los rumbos por los que me movía, respirar no sólo el aire puro del continente austral sino los colores brillantes y las dimensiones tan extensas de aquellos sitios. El ritmo del trote y el trazo de mis propias rutas fue un modo de incorporarme a la ciudad, de sentirme agente y empoderada en el nuevo espacio físico, me permitió conocerlo, sentirlo en los pies, en la piel, en la vista, en los pulmones, en la altura, en la temperatura.
Sin lugar a dudas, y como ya muchos corredores saben, correr es un modo para conocer ciudades y explorar territorios desconocidos… para respirar de nuevo. Para mí, el poder que me da el ritmo del trote, el movimiento y la velocidad, son invaluables, y me hacen sentir que pertenezco a los sitios, que se quedan conmigo mientras paso a través de ellos. Correr es entonces, un modo de estar en el mundo y está claro que una parte de mi experiencia australiana la narro al ritmo del 'running'. ¿Les ha pasado igual?
Per Elisa Herrera Altamirano.