With a little help from my friends. Estelades al Míting d'Atletisme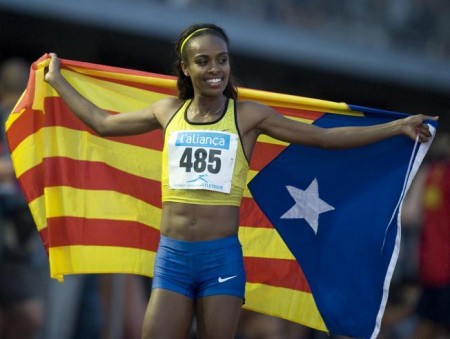 Per Josep Maria Antentas, vice-president de la Federació Catalana d'Atletisme.
Amb el títol de la cançó dels Beatles, popularitzada per Joe Cocker a Woodstock 1969, podríem resumir l'èxit del passat Míting Internacional d'Atletisme "Ciutat de Barcelona", celebrat a l'Estadi Serrahima, el passat 8 de juliol. Un èxit encapçalat per Ayanleh Souleiman (Djibouti) i Genzebe Dibaba (Etiòpia), comandats per Jama Aden (Somàlia). Ras i curt: Dibaba va córrer els 1500 m en 3.54.11 (rècord d'Àfrica). Feia 18 anys que cap dona no corria tan ràpid. Un segon i 29 centèsimes menys que el rècord que ostentava l'algeriana Hassiba Boulmerka (Barcelona 92).
Però abans, havíem assaborit un altre plat exquisit: els 800 m de categoria masculina, amb els cinc primers per sota del minut i 45 segons, i amb Souleiman "El Magnífic", guanyant amb 1.43.08. Millor marca mundial de l'any (rècord de Djibouti).
Un reguitzell de bones marques que va venir en bona part pel cop de mà de Jama Aden i l'interès del seus atletes en aquesta reunió atlètica. Aden (53 anys), va ser considerat per la Federació Internacional d'atletisme (IAAF), el millor entrenador de mig fons l'any 2008. Abans havia estat company i entrenador d'Abdi Bile, el somali campió del món de 1500, per davant de l'espanyol José Luis González (Roma, 1987).
Com a atleta, Aden havia estat olímpic (Los Angeles,1984), amb marques de 1.46.73 (800 m), 3.38.12(1500 m) i 3.56.62 (a la milla; júnior).
Un matí qualsevol a Sabadell
Veure entrenar el grup d'Aden és un espectacle pels aficionats a l'atletisme Tot i que solen fer uns 10 entrenaments setmanals, els matinals sobresurten per la seva quantitat i qualitat. El "show" comença a les 8h, o abans, i solen ser al Parc Central de Sabadell, davant l'aeroport.
Destaquen els canvis de ritme i els "fartleks". A vegades la llera del riu Ripoll, paral·lela a les pistes d'atletisme i la pista coberta, són els escenaris dels escalfaments o rodatges a nivell altíssim. Finalment és el material sintètic de la pista qui sofreix les excel·lències de la classe d'aquests corredors, entre 15 i 20.
Abans d'escriure aquest article, el germà i ajudant del Jama, l'Ibrahim, em deia que "no els compto mai, van i vénen". Pels aficionats a les sèries, aquí van alguns exemples de sessions en les quals he estat present.
Dividits en grups, en un dels quals hi figura l'atleta de Castellar del Vallès amb fitxa per la JA Sabadell, el júnior de primer any, Jordi Torrents (3.41.66,1500m), fan repeticions (5 o 6) de 1000 m a un promig de 2'43", recuperant amb 2 o 3 minuts. Sèries de 300 m a 36"-37", recuperant amb 12 minuts o bé 10 de 150 m augmentat la velocitat cada 50 m. Són alguns dels entrenaments. Jama em deia també que fan "tres sessions dures a la setmana: pista- fartlek –pista".
Abans de córrer els 1500 m en 3.54 i també uns dies abans de guanyar els 5000 m de la Diamond League, a París vaig ser testimoni de com Genzebe Dibaba, feia 4×800 m, l'últim en 1.58.
Un exultant Jama em cridava, "Come, have a look", i efectivament el seu crono i d'altres marcaven el registre. La seva llebre particular havia aguantat 500 m. De fet a Jama li agrada assajar en entrenaments el que l'atleta es pot trobar en la competició.
Ajudat per un altaveu i per un xiulet –la seva intensitat indica el atleta l'augment progressiu del seu ritme–, l'entrenador, ara resident a Qatar, és l'amo i senyor d'un grup en el qual l'armoria i bon rotllo és l'element primordial.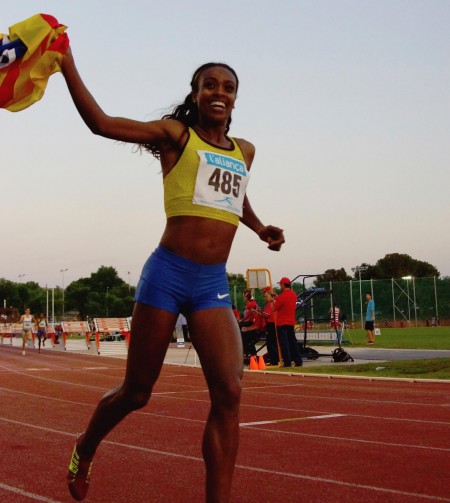 Campions olímpics, del món…
Tot i que Jama Aden va venir a Barcelona per preparar els seus atletes pels JJ.OO. del 2008, va ser el 2012 quan Miguel Quesada, el recordista català de 800 m i medalla de plata als Europeus indoor del 2007, va conèixer el grup de Jama, en un estada a Etiòpia.
Els va convèncer per venir a Sabadell a l'estiu. "La bona rebuda, les instal·lacions, les facilitats, el clima, els preus i Barcelona. Tots som del Barça i una vegada passi el Mundial (Beijing, agost), volem veure el Barça, el museu…, va fer que canviéssim la plujosa Suïssa pel vostre clima", remata un Jama Aden, que pensa que a Mònaco la Dibaba pot córrer en 3.52- 3.53 el quilòmetre i mig.
El primer any van venir entre d'altres Taoufik Makhloufi (Algèria), actual campió olímpic de 1500 m, i Abubaker Kaki (Sudan), campió del món indoor en 800 m el 2008 i 2010. Aquest dos ja no entrenen amb ell, Makhloufi per diferències personals i Kaki perquè va ser expulsat per no cuidar-se (està retirat als 26 anys).
La nòmina d'atletes va pujar l'any passat i encara més aquest any. En destacarem a tres: Genzebe Dibaba (Arsi, 1991) "només" té aquest currículum: Campiona del Món en Pista Coberta el 2012 (1500 m) i 2014 (3000 m). Campiona del món júnior de cros (2008 i 2009 i de 5000 m pista). Aquest 2015 ha guanyat els 5000 m de la Diamond League d'Oregon, Oslo i Paris. A la capital francesa amb marca personal de 14.15.41, segona millor marca de tots els temps a 4 segons del rècord del món de la seva germana Tirunesh. Ha estat guardonada amb el prestigiós premi "Laureus Sport Woman 2014".
Company d'entrenament i d'estada a Sabadell: Ayenleh Souleiman (1992).Té tots els rècords de Djibouti: 800 m (1.43.08), 1500 m (3.29.58), milla (3.47.32), 3000 m (7.42.22, indoor 7,39.81) i 5000 m (13.17.97). És l'actual campió del món indoor (1500 m) i també d'Àfrica. Bronze en els passat Campionats del Món en 800 m aire lliure (Moscou 2013). En total ha guanyat 7 proves de la Diamond League.
Finalment tenim a Abdelalelah Haroun (Qatar 1997), 18 anys, prové del kickboxing, el seu nas trencat n'és una bona prova. Ha corregut amb 44.77 els 400 m i "pot ser la gran sorpresa del Campionats del Món, propers", em deia el Jama.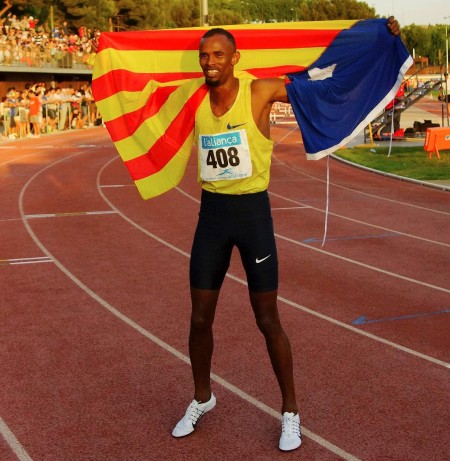 El rebombori de l'estelada
Míting Internacional d'Atletisme "Ciutat de Barcelona" va anar més enllà del resultat esportiu. Acabades les proves de 800 i 1500 m, Souleiman i Dibaba van aparèixer amb una estelada . TV3 ho va captar i la fotografia del moment va donar la volta al món.
Hi ha qui pot dir que no sabien el que exhibien. Error! En el viatge d'anada a les pistes se'ls va explicar en anglès el que es pensava fer i si estaven d'acord en desplegar la bandera. Entre una cridòria i aplaudiments van donar la conformitat. Ho farien com mostra de gratitud pel tracte rebut.
Souleiman davant les càmeres de TV3, en anglès i traduït al català, va dir: "Ens trobem molt bé a Catalunya i a Sabadell". De fet tant ell com la Dibaba coneixen molt bé que els seus països havien estat colonitzats per França i Itàlia, respectivament.
Un murri Jama Aden es fregava les mans l'endemà en veure els diaris i la televisió. "We have had publicity by two sides: sport and politics". Tenia raó, mai el Míting de Barcelona hagués tingut tanta ressonància. L'endemà al matí, a l'entrenament, els atletes deien "the flag, the flag", i és que l'estelada va donar per molt.
Josep Maria Antentas, vice-president de la Federació Catalana d'Atletisme.
Fotos: Vilaweb i JJ Vico